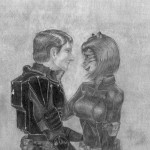 This is a fairly straight forward picture. I consider it one of my best drawings to date. It also happens to be one of my newest.
This is pencil on drawing paper.
The basic premise behind this picture is that our hero ( =P ) and his wife are saying good bye. This is from the official Ambition & Honor concept… the same one I'm basing the Forum RP on.
This is easily the most detailed drawing of… well… me… that I have made to date. The same can be said of Veronica, the fictional love interest here. This is only the second time I have made a drawing of her.
In the end, I decided to go with a plain gray backdrop to aid with the "emotion" of this scene. I think it was a successful decision.
"Veronica is about to leave for as long as maybe two years and Jay Hollen (The Wildcat) is worried about his wife. She's trying to reassure him that she'll be okay." from my DA account.