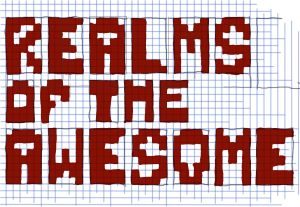 Realms of the Awesome is a Minecraft Let's Play series that will be split between two worlds.  I refer to it as an "experience" because I prefer the experience video format over a long-run nothing-cut-out let's play.  I will record in Video Games AWESOME!'s Minecraft AWESOME! server during build challenges and as I work on my community of NorthRidge as well as the Lupland LP community.  I will also record in our own Realm of the Nine Fires as we re-launch the server and begin build challenges, tool setting builds, and general gameplay.
Episodes:
1. End of the World [MA]
2. Turbo Troubles [MA]
3. The Trip [MA]
4. Conquest [MA]
5. Missing Scene [MA]

6. Moving Time [MA]
7. Business Trips [MA]
8. Expansion [MA]
9. The 1st Testificate [MA]
10. The Colony [QS]
11. The Return [MA]
11.5 A Glitch in Time [MA] – Lost episode 12, found 8 months later.
12. Working Hard [MA]
13. Celebration [MA]
14. Roadwork Ahead [MA]
15. Another World [SS]
16. Finishing Business [SS]
17. Farming Wool [MA]
18. Frash House [MA]
[ MA – Minecraft AWESOME! ]
[ SS – Minecraft AWESOME! Show Server ]
[ 9F – Realm of the Nine Fires ]
[ QS – QuakeCon Special ]